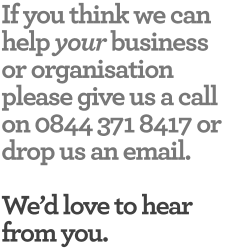 Available Services
E-Commerce
Web Design
Graphic Design
Logos & Branding
Illustration
Advertising
Packaging
Email Marketing
SMS Marketing
Social Media Marketing
Customer Intelligence
SEO (Search Engine Optimisation)
PPC (Pay Per Click)
Photography
Web Hosting
Print Management
Copywriting
Web Contant Management
Merchandise
Music & Audio Production
Blogs
featured services
E-Commerce.
Fact #1: Last year around 24 million UK consumers shopped online.
Thinking of starting a business that sells stuff?
Maybe you own one already - a bricks and mortar shop or a mail order company?
Either way, if you want to start selling online, you really should give us a call. Whether you're going to shift ten items a week or ten thousand, physical products or digital downloads, we've got every custom e-commerce solution imaginable to meet your needs, make you money and make the admin easy.
Web Design.
Fact #2: There are over 25 Billion pages on the World Wide Web.
Still not got a website? Seriously?

Whether you want us to design and build a new one from scratch, re-design your existing site, set up a blog or create a fully featured dynamic database-driven site, our experienced team can do it. And a lot more.

We can even host it for you, but more about that later...



Graphic Design.
Fact #3: On an average day 6,000 logos will pass across our field of vision.
Need a logo, business stationery, a poster, a sign?
Are you talking convincingly to the right people in exactly the right style for your brand?
Whatever your requirements, we offer a comprehensive range of graphic design services for small and large businesses alike..
Marketing & e-Marketing.
Fact #4: In 2009, Online advertising spending in the UK overtook television expenditure for the first time.
Need to promote your business or organisation?
We can help you spread the word (and the pictures) and get you growing with cost-effective and creative marketing strategies that really work!
They could be anything from traditional print-based ad or poster campaigns to email and internet marketing techniques so cutting-edge they almost hurt - along with detailed data to help you decide where your marketing pounds are best spent.
SEO, PPC & Customer Intelligence.
Fact #5: Websites that appear on Google's first page of search results get 10 times as many hits as those on page 2.
So you've got website, but one thing is missing.., visitors.
We can help you improve your visibility in both natural and paid searches, driving traffic to your site and increasing sales.
We can also help you gain valuable intelligence on your customers and potential customers, what are they searching for, how are they finding you, where are they going when they leave, and much more.

Merchandise.
Fact #6: People like cool stuff, especially if you give it to them for free.
Need some branded t-shirts for your staff or some mugs for your customers?
No sweat.
Need a pre-loaded USB memory stick, a skateboard or your very own brand of Champagne?
No problem.
In short, anything you like. With your name on it!
Music.
Fact #7: On average, UK citizens spend 16,899 minutes a year listening to music.
We're passionate about music (especially electronic music), but we don't just sit around listening to the stuff, we make it. Ever watched Eastenders, Top Gear or The Holiday Programme? Ever seen Bruce Willis in the film The Jackal? Then you've almost certainly heard our work! Familiar with a video game called Grand Theft Auto? We're on that too.
So if you need music for a radio ad, TV commercial or film project, we can deliver!
Web Hosting.
Fact #8: In 2010 storage cost 8.2¢ per gigabyte, in 1956 the same gigabyte would have cost $10,000,000.
Looking to register a domain name for your business?
Need somewhere to host your website?
Using our dedicated web hosting site it's easy to find out if your desired domain name's available. And if it is, you can snap it up with a few clicks of your mouse. Then you simply choose from our range of hosting packages and use our advanced control panel to administer your email addresses, upload files and a million other things.
Too geeky for you? Just ask us to do it for you!
Photography.
Fact #9: George Eastman named his company Kodak after the sound he thought the camera shutter made.
Now we've all got digital cameras on our phones, everyone thinks they're a photographer. Trust us, they're not. Nor are we. Which is why we work with the best you can get in every photographic style.
Want a sexy pack shot? A full-on, super-glam fashion shoot? Or anything in between? We'll focus the brief, pick the cream of the photographic crop and even art-direct the shoot to ensure what develops is dead right.